We're located at 102 424 10 Street NW, Calgary, AB, T2N 1W2. Directions here.
The space: 150 square-foot self-contained/private project space flooded with natural light, which includes:
detached storage space

three white plinths

small reception table

two stools

cable wall hanging system

adjustable track lighting

top-down/bottom-up blinds

two power outlets
The space consists of four walls; two walls are floor-to-ceiling windows, and the other two walls are white brick/cement. The flooring is laminate. The shop is located on the ground-level of a brick building.


Amenities: Heating, electricity, ground floor level, adjustable lighting, wifi, and 1 parking stall.


Other perks: We're here to help make your experience with us as seamless as possible through offering:
being on-call during install and for any other required assistance during artist pop ups

promotion and marketing on our social media platforms (before, during and after)

energetically cleansing the space between pop ups with handpicked palo santo from Ecuador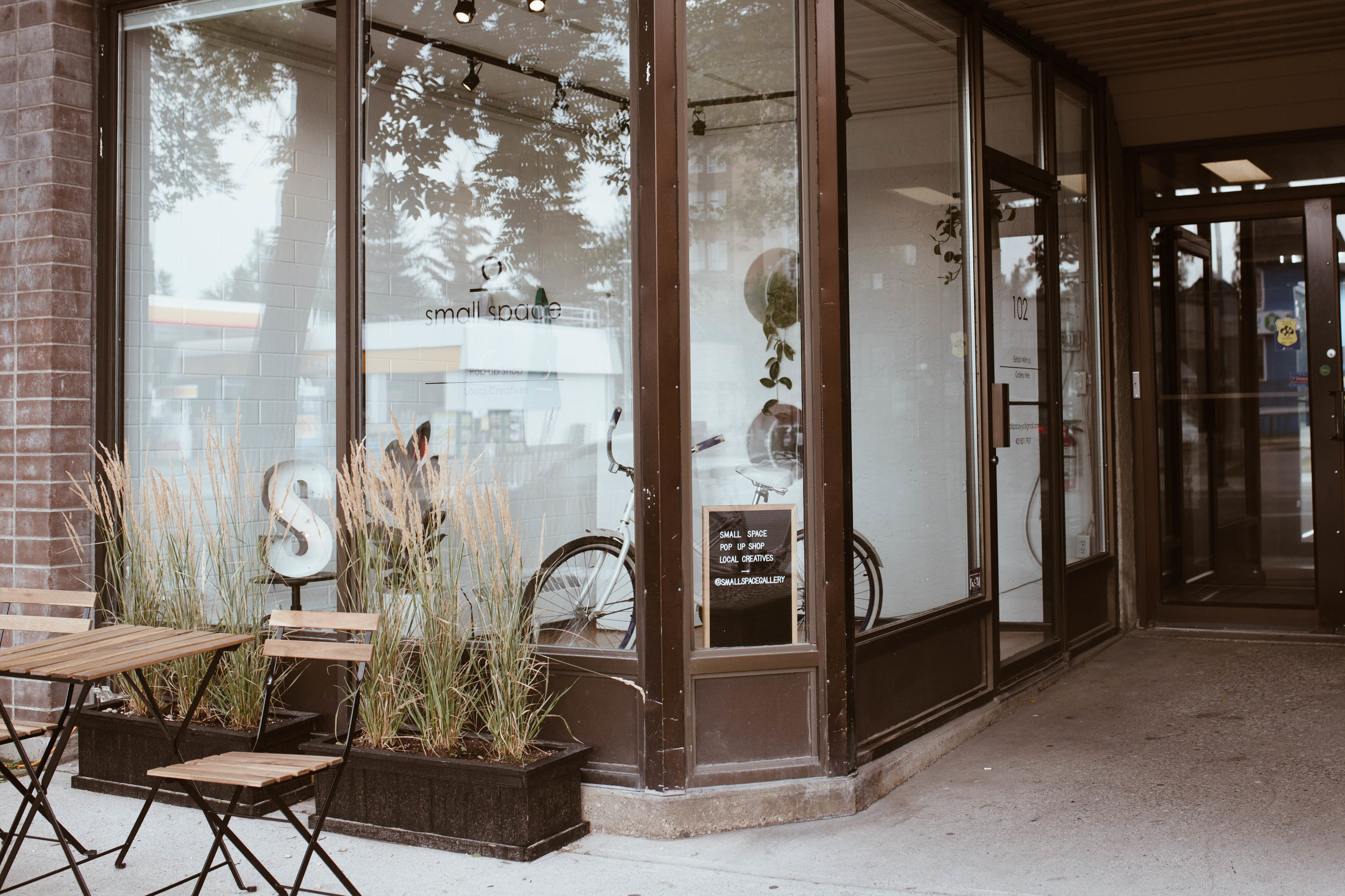 the vision
By the arts for the arts.
We are a curated pop up shop and contemporary gallery space created by two sisters inspired by the arts. We strive to be at the forefront of the pop up movement; our aim is to continually develop the pop up concept through networking with local artists, understanding their needs and closing the gap between artists and their communities. We cater to the emerging and professional artist and thrive on collaborating with other contemporary innovators tapping into the potential of alternative art-sharing mediums while at the same time upholding quality and notoriety. We seek to break boundaries and create opportunity, opportunity that instills pride.
The perfect blank canvas.
We offer a blank canvas from which innovation comes to life. We believe art is an essential proponent of the collective existence and creates a culture where possibilities are constant. The intimacy and exposure of the space restores connections – connection that can only be made possible through physical interaction. Our space may be small, but it is mighty in potential.
Community feels.
All profits generated by Small Space are injected back into the art community. Whether this means sponsoring an emerging or established artist to exhibit an art installation in the space, or supporting the arts abroad, we are committed to providing a quality experience for our artists, and local audience alike.

the founders
Sarah (25) is an AUArts (formerly ACAD) graduate with a BFA, Drawing major. Currently, she is the Manager and Creative Director at Inner Balance Spa in Kensington. Having grown up in Inglewood and West Hillhurst, Sarah is inspired by community and the urban experience. Further to this, she aims to enhance the local experience through conceptual thinking, and takes a minimalist, organic approach to her passion for curation and design. Sarah continues to develop her studio practice.


Katrina (28) has a BA, Spanish major from UBC, Vancouver. She is fluent in French and Spanish and is deeply inspired by diversity. Following graduation from university, she taught English in the Galapagos Islands and Ecuador until she recently returned to Calgary, her native city. Currently, Katrina works in land, environment, and aboriginal relations in the energy sector. She is passionate about the arts and the urban development movement in the city of Calgary, and wishes to contribute to this movement in a meaningful, proactive way.


Together, they are strong and supportive sisters!